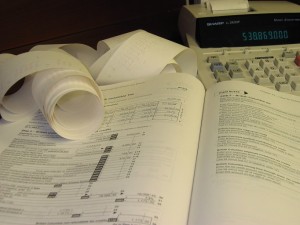 It happened when I was at my job. Last week I experienced a striking transition out of desperation and into hope. Which led to a job well-done and joy! Let me explain: In our family business, I am the one who carries the responsibility of preparing and filing our annual federal tax reports. Not one, but three of them, every year. Honestly, it is a grueling task for me. Two weeks ago it was time to dive into finishing this big job, and I didn't want to do it. I was at the desperation point.
Ironically, at the same time I started the tax filing chore, I began writing the current blog series, "Your Workplace Story: Exceeding the Norm." God can be quite inventive as He arranges circumstances perfectly for us, to draw us into greater agreement with Him. He strategically combined the tax filing projects and the inspiration for this blog series, to push me into experiencing an expression of His greater works.
I am not kidding! I found Him in the middle of the must-get-it-done-now job (I'm referring to the tax filings, of course). Admittedly, I began by grumbling and holding my breath (not literally holding my breath, but it is an expression of dealing with fear). Jesus was not intimidated. He had a plan to unleash me from on-the-job dread.
I was challenged. Tremendously. I knew I couldn't write this blog series and publish it if it wasn't a real testimony in me.
For two weeks, to actively go beyond the drudgery of transforming expense receipts into a proper reporting document, and to discover joy, was to be the accomplishment of a greater kingdom work at our home office.
God saw my weakness and responded. Holy Spirit refreshed my heart, mind and spirit with revelation of the power of Father's love for Jesus, which caused Jesus to rise above it all and experience superior accomplishments. He referred to John 15: Father's love fed Jesus' ability to do greater works. Jesus lived above the earth's standards because He lived in Father's love and received everything He needed from this love.
He inspired me to respond in a practical way. Daily, sometimes hour-by-hour, I intentionally stopped working for a few minutes, shut my eyes, and let Him reveal to me what it looks like to agree with love's power. I spoke the truth over those documents and receipts. Aloud, I declared that I am confident in my Father's love and in Jesus' perfect leadership through the process.
Today, I can confidently say that His greater works in me are what completed the project, and caused me to be happy in the process. Who Jesus is in me—this motivated me to press on and to do it with joy. To shift into joy was a victory. The joy helped move me past a few stumbling points in the process, which means another victory.
The tax documents are completed and in the mail to the appropriate government offices. Our home office is now glowing with the greater witness of His power and love for every detail in our life.
© Sharon Gonzales. 15 June 2015.
http://www.lifeas1ru.com/больше-огня-блог/
http://vk.com/public88228630