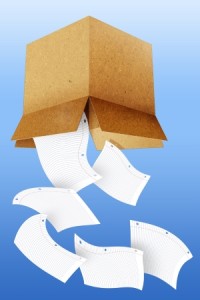 Dwelling on the problem draws us deeper into it, distancing us from the solution. As believers, we have a better way to respond. We can turn away from the dread, the fear, the stuck-in-the-mud feeling, and look at the One who is the Way. It takes boldness to do it.
Abraham stepped into the boldness. He focused on God. Tapping into grace to look away from the challenge and to refocus upon the Source of life was his solution. Abraham was strengthened in faith, gave glory to God, and was fully convinced what God had promised He was also able to perform (Romans 4:20-21). You might ask, is this really practical in everyday life? How does this help me pay the rent, or know how to respond to my teenager who is failing tenth grade, or save that big account which my boss commanded me to do?
Our perspective can either hide or reveal answers.When we walk away from the gloominess of the situation, and step into light and hope, our view of the circumstance changes. When facing challenges, hope can be the catalyst to shift how we view it. How we look at something can dramatically and instantly change the situation itself. Hope is the key.
Hope is confident expectation that good is coming. Good comes to me as a Person, as the Man Jesus, in every way possible, in very practical means. I want a re-connection with this truth, the truth that God is always with me and He is good. When I can trust that His intentions for me are always good, according to His wisdom and His view of the matter, then the pipeline of my processing becomes more free-flowing. When fear and no-way-out thinking leave, fresh insight can move in and shape my thoughts.
Our natural inclination is to remain in the mire of a gloomy situation. Today, we want to be unnatural. We want to be our supernatural selves and go for the hope. We will progress – advance – when we know the good God and go with Him.
Our action step: For breakfast, lunch, and dinner, we can munch on the following power truths and let the nutrients feed our minds and hearts: (1) You are good, and what You do is good (Ps 119:68). (2) How abundant are the good things that You have stored up for those who fear You, that You bestow in the sight of all, on those who take refuge in You (Ps 31:19).
© Sharon Gonzales. June 17, 2015.