LIFE AS ONE MINISTRIES I'm in them and You're in Me. John 17:21-23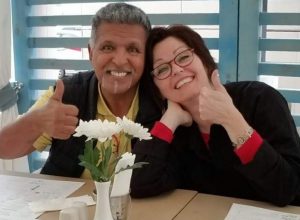 Together, Jack and Sharon work with various ministries, training and mentoring in prophetic ministry, prayer ministry, and personal development for kingdom purpose fulfillment. They are thrilled to serve as missionaries to Russia and Ukraine, equipping the body of Christ to be part of the answer to the cry, "Your kingdom come, on earth as it is in heaven." Sharon intercedes for, teaches and encourages believers in Russian-speaking regions. Since 1999 she has loved Russian-speaking missions and ministers extensively in Russia and Ukraine.
In the mid-90's Jack and Sharon began facilitating intercessory worship sessions for cities and regions.  Their primary purpose was to facilitate and  support houses of prayer and prayer groups.  Later, their mission expanded to embracing God's presence in all of society.  They co-founded Marketplace Alive, a ministry that helped people embrace their strategic placement in the workforce. Leaders grew in impacting their business, community and culture with passion for God.
For several years Jack and Sharon lived in Kansas City, in community with the International House of Prayer (IHOPKC), as part of the night and day prayer movement. Sharon served the IHOPKC Russian-speaking international department, helping to birth IHOP-Moscow. She also served as team leader for an international prophetic prayer and coaching ministry for business leaders.
Jack and Sharon have worked in the business realm and church realm for decades. For over 45 years, Jack supervised large, demanding building projects and operated his own construction management consulting firm. If you fly to  Orlando airport, you could walk through the beautiful Delta terminal. This was one of Jack's big projects.  During his marketplace tenure, he helped businessmen face workplace challenges, encouraging them to live with integrity and hope in God's goodness.
Sharon is professional licensed mental health therapist, teacher and author, and was office manager for Jack's business. We are ordained ministers. Our best testimony, however, is Father God's love which we carry for His nations!