For every believer who wants to go deeper with God and partner with Him: Be extraordinary; do extraordinary; with extraordinary connection to God.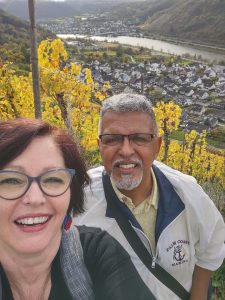 Life As One Ministries exists as an equipping ministry to help believers mature in intimately knowing God and do great things by their close, personal relationship with Him. The people that know their God shall be strong, and do exploits, Daniel 11:32.
Jack and Sharon Gonzales partner with churches, to train and mentor in prophetic gifts and prayer ministry. They also work closely with workplace leaders to grow their leadership anointing and expand their kingdom influence. 
Since 1999, Sharon has been praying for, teaching and encouraging believers in Slavic regions. For the last ten years, Jack and Sharon have dedicated their lives to full-time service in the nations.
In the mid-90's Jack and Sharon began facilitating intercessory worship sessions for cities and regions. Their primary purpose was to facilitate and support houses of prayer and prayer groups. Later, their mission expanded to embracing God's presence in all of society. They co-founded Marketplace Alive, a ministry that helped people embrace their strategic placement in the workforce. Leaders grew in impacting their business, community and culture with passion for God.
For several years Jack and Sharon lived in Kansas City, in community with the International House of Prayer (IHOPKC), as part of the night and day prayer movement. Sharon served the IHOPKC Slavic International Department, helping to birth prayer rooms in Slavic nations. She also served as team leader for an international prophetic prayer and coaching ministry for business leaders.
Jack and Sharon worked in the business and church environment for decades. For over 45 years, Jack supervised large, demanding building projects and operated his own construction management consulting firm. If you fly to the Orlando airport, you might walk through the beautiful Delta terminal; it was one of Jack's big projects. During his marketplace tenure, he helped businessmen face workplace challenges, encouraging them to live with integrity and hope in God's goodness.
Jack and Sharon serve as ordained ministers of God's gospel and kingdom. God has blessed them with two beautiful daughters, handsome son-in-law, and two delightful grandchildren.