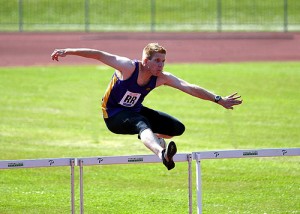 Obstacles usually mean something needs to be removed or something needs to break open. If it is true that God makes the way open for us, then it is true that those obstacles must go away. He isn't the author of the obstacles. Yes, there are divine closed doors, but we don't want to waste time wrestling there. He leads us into open places, which we must discern. Yes, my beloved God is always with me, for me, and walks ahead of me to create the open path.
We have hope-inspiring statements of truth which build confidence in His faithfulness:
The One who breaks open the way will go up before them; they will break through the gate and go out, Micah 2:3a.
The Lord will guide you always, Isaiah 58:11a.
He will direct your paths, Proverbs 3:6b.
The Lord is the One who goes before you He will be with you, Deuteronomy 31:8a.
I will go before you, and make the crooked places straight, Isaiah 45:2.
Usually, my fickle soul is the obstacle maker. When this happens, my will, emotions, or thinking insist upon taking the lead. The wrestling begins and God wins, as He invades me with His love and wisdom. A glad YES to Him is all it takes. When happy agreement with God is embraced inside of me, then my soul ceases to be the obstacle. Suddenly the way appears clear.
Occasionally it is the dark side which attempts to create roadblocks too. I hide myself in God and He shuts down the sinister voices. They are blown away like smoke. Or with a jab of the sword of His word.
We can find ourselves in situations where we feel closed in, blocked, stuck. God intends to split open what is ahead of you and create a path which was not there before. He has your forward already prepared and He covers your back with mercy and truth. He did this for Moses as he faced the Red Sea, with the Egyptian chariots nipping at his heels. God changed circumstances in a hugely creative way, to enable Moses and his followers to step into their next season of Promise Land adventures. Moses was given a new, extended map. For some of you reading this post, let me encourage you to see the new map which God has created for you.
I feel like many of us are experiencing obstacles right now. Be bold and to embrace who God is for you, as the powerful faithful One who cannot be detained. He is with you and has a path already mapped out for you. Wrap yourself in the declaration of who He actually is as Way-Maker. (Jesus said He is the Way, He is Truth, He is Life.) See Him as the Road, and step into Him. You might feel a little bit of fire as you discover your soul has been the obstacle. Simply agree, repent, and walk ahead. And ignore the dark side's condemning sneers. It's a big lie. You are covered by Jesus' love, grace and blood. Walk onto your field with joy and peace!
© Sharon Gonzales. July 2, 2015.
LIFE AS ONE Ministries: I'm in them and You're in Me. John 17:21-23  http://wp.me/P6hxar-6j
http://lifeas1.com/fire-starters/
http://www.lifeas1ru.com/больше-огня-блог/
http://vk.com/public88228630